Innovation & Transformation
How COVID-19 is Changing the Sharing Economy
The pandemic has tested clients in all sort of industries but we've seen some of the biggest impact in the companies within the sharing economy
A 2013 PwC study reported sales revenue from the sharing economy to be around 15 billion dollars. This included apps focused on lending, home-sharing, ride sharing, music and video streaming, and online or remote work. They predicted this would climb to 335 billion by 2025, and at the beginning of 2020, the industry was certainly still on that path.
Then COVID-19 happened. The travel and hospitality industry, in particular, faced significant challenges as the pandemic sent much of the world home. Companies whose business models are based on sharing underutilized assets – ridesharing, coworking space, apartment and home lending – saw heavy losses. Lyft reported a nearly 80% drop in rides in March, and in May, Airbnb laid off about 25% of its staff.
Businesses focused on supporting people sheltering in place, however, experienced an increase in demand. Takeout and grocery delivery services such as Uber Eats, Instacart and DoorDash added to their workforces. The uptick in online shopping also led businesses like Amazon Flex, who uses independent drivers to deliver packages with their own vehicles, to hire new couriers.
For many in the sharing economy, it became apparent early on that they had an opportunity to move fast and showcase the flexibility inherent in their business models – to respond to rapidly evolving market needs in the short-term and thrive for the long-term. HSBC client Via is one such organization.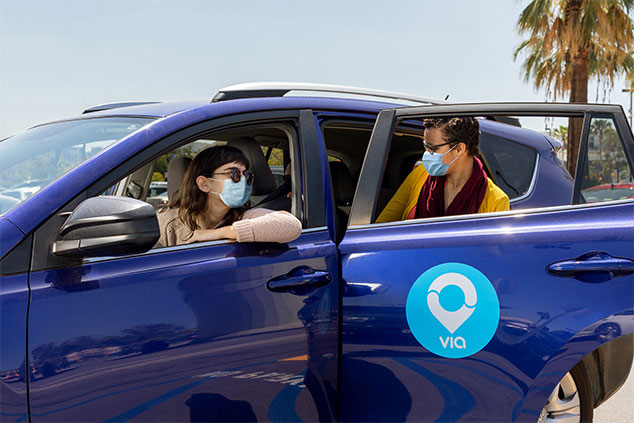 Via is the global leader in TransitTech, partnering with transit agencies and cities in more than 20 countries worldwide to improve public transportation. Via provides on-demand shared rides that get people where they need to go efficiently, safely, and affordably. Here in the US, that includes Sacramento Regional Transit District and Birmingham (AL) On-Demand Ride-Share. For Via, adaptation and flexibility has become their 'new normal' – and not just as they deal with the lingering pandemic, but as they look to the future.
Clara Fain, CFO, says the company responded almost immediately. "We launched new solutions designed specifically to respond to the most urgent needs in the markets we serve." In the early days of the pandemic, that meant using their platform to provide safe transportation for healthcare workers and other essential employees as well as delivering food, medicine, baby supplies and more. Going forward, their platform continues to allow communities to build a service tailored to their objectives – whether serving transit deserts, providing efficient transit to riders of all abilities, or ensuring that individuals without access to private vehicles have affordable travel options.
That's because, in a COVID-responsive world, Via feels the emphasis for every business will be on improving the quality of life for people and communities across the globe, says Fain.
"Public transportation has always played a critical role in doing that. For instance, giving people safe, reliable and affordable transportation options enables economic mobility with better access to good jobs."
The company aims to use what they've learned as a result of the pandemic to continue reimagining what public transportation looks like with smart city innovations that move people in the safest and most equitable way possible. To do that, they're setting their sights on leading the way in defining 'TransitTech'. Fain said, "We see this as a massive opportunity, approximately $450 billion, that will lay the foundation for the first true technological revolution in public transportation in more than a century."
The speed at which Via and others have had to move to uncover and capitalize on new opportunities calls for innovative partnerships – with customers, other businesses and financial partners like HSBC. As Fain says,
We know we can always count on our HSBC account team to find us the right solution or provide us with the right introduction, whether within or outside the bank.