Innovation & Transformation
The Digital Revolution of Global Trade
Digital advancements are transforming global trade, flattening borders and breaking down barriers along the way.
With its document-heavy processes, trade would seem ripe for digitization – but many processes are mainly the same today as they have been for years. Even electronic invoicing, which is perhaps the most widely digitized process between companies, only accounts for about 8% of global volume.
The digitization we have seen to date has typically solved a single problem, which is no longer sufficient as more and more solutions become available. To move forward, it's critical that both legacy and new applications can be layered together. Digital solutions must also deliver value to all supply chain participants – not just buyers but sellers, logistics providers, other buyers and financial institutions. This includes establishing wider, more inter-connected networks that reach across the entire supply chain.
HSBC invited financial technology experts to share their thoughts on what needs to happen for the industry to take the next step towards digitization. Here's are highlights from their discussion at our event, The State of Global Trade 2019.
Breaking down the silos of single trade solutions
To encourage adoption, moving toward digitization must be easy says Carlos Arena, Head of Americas Business Development at R3, a blockchain technology company. "We need to move away from the various silos we've created over time – with individual portals or systems for one or two processes that corporates then have to reconcile with other processes and data," he says. "Instead, it's about developing a middleware that allows for settlements, onboarding and trade – a system that is flexible and able to embrace some of the legacy solutions companies have invested in, as well as integrate new solutions seamlessly."
For R3, that means establishing a direct connection between books and records from corporate-to-bank, corporate-to-corporate and corporate-to-logistics providers without needing to go from one system or application to another. "This gives companies a working capital solution that tells them how much cash they need in March, for instance, and what they need in receivables to finance it," Arena explains.
Priyamvada Singh, Head of Product Management, Global Trade and Receivables Finance, North America at HSBC, agrees that the siloed approach to products needs change. "The way global value chains are transforming, it's more about getting access to the data that's linking our clients and their supply chains than it is about individual products," she says. This gives banks the visibility they need to align financing at the exact point clients need it. "This kind of visibility benefits the entire industry," says Singh. "Companies know they can access financing without having to rely on traditional scoring methods. Banks can use the data to be more credit aware, which helps with de-risking. Plus, there's better security since information sharing is open and public, minimizing the risk of fraud."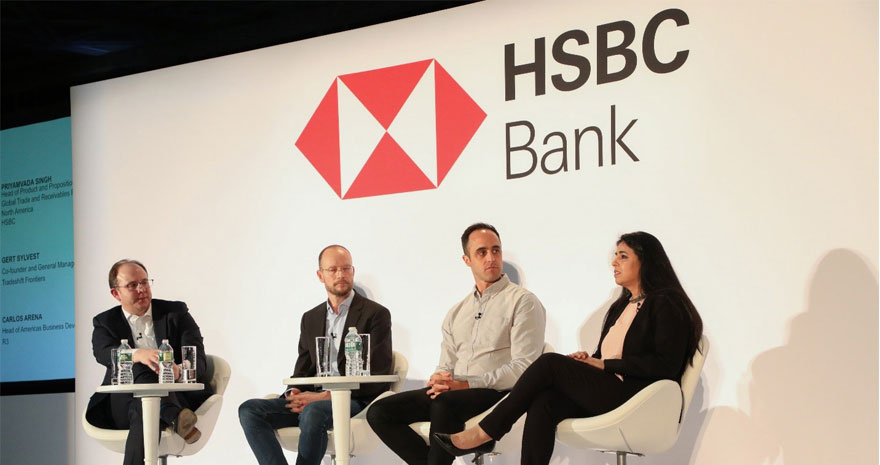 Unlocking the value of trade digitization
At its core, digitization is about efficiency – particularly for the buyer. That's where Tradeshift, a cloud-based business network and platform provider, began says the company's Co-founder and General Manager Gert Sylvest.
"We started with electronic invoicing for an early client, with a focus on the short-term objective of improving efficiency," he says. "What we found is that once a corporate can actually make automatic payments to their suppliers, they can use the data that's gathered to gain insight into all their digital transactions." This enhanced visibility helps corporates address liquidity gaps. When financing is added to that mix, it becomes an engine for digitization. "Instead of going to key partners and asking them to digitize to help make your processes more efficient, a corporate can say, 'How would you like to get paid on day one?'"
The enriched transaction data can also help suppliers build their digital identities, which they can then use to go to market with other customers. "Digital solutions need to deliver this kind of value to every participant in the supply chain," Sylvest says.
Building networks through collaboration
In the past, economic models relied on closed proprietary networks. To be truly successful, digitization requires connectivity across the entire supply chain – creating a far-reaching network. Arena explains it this way: "Think of it in terms of a smartphone. The phone works, the technology is perfect. I can prove to you that the phone works, but if other people don't have phones and you don't have their phone numbers and the line is not interconnected – then the phone is useless." He asserts that we are exactly at that stage with financial technology and digitization. "People are eager to deploy. They've seen how much better the process can be and the potential, but we need a network and solutions that work together."
"Financial institutions have been using technology for years to make processes more efficient and less costly, extracting value for our clients as well as the bank," says Singh. "But banks, especially large banks, are not as nimble as smaller startups and enterprises." That's why collaboration is essential for moving forward. "Banks need to be open to connecting with partners. Without that, we'll only end up with more islands and silos, like the single solutions and proprietary networks of old."
HSBC Bank USA, N.A. makes no representations whatsoever regarding content of the material shared. It is being shared by HSBC Bank USA, N.A. for information purposes only without review or validation of the content. This document is intended for discussion and does not create any contractual commitment on the part of HSBC Bank USA, N.A.