Building Your Brand in a Digital Age of Retail Transformation
Today's shifting retail landscape demands a new, holistic approach to the consumer experience.
Thanks to the prevalence of e-commerce in the minds of consumers, there is a far lower barrier to entry for smaller retail players to infiltrate and fragment the market.
Technologies like on-demand fulfillment are rewriting the rulebook on how (and where) retailers manage their inventory. Major online marketplaces are capturing an ever-expanding base of global customers, and with it, information about their purchasing habits, and other valuable data. The result is a positive feedback loop of enhanced consumer targeting.
And as new, innovative products proliferate throughout the market, retailers are being forced to reimagine the way they bring their brand story to life. From experiential in-store marketing, to creative partnerships, to taking a fresh look at the customer journey – nearly every retailer, large and small, is having to look at new ways to create an authentic connection with their target audience.
To better understand the strategies these brands are using to navigate the changing playing field, we gathered some of the industry's most influential trailblazers to discuss retail trends and share thoughts on what's worked (and hasn't worked) for their brands. Here are a few insightful takeaways from their discussion at our recent event, Disruption and Innovation: What's Next for the Global Retail Market?
Data Isn't Just Digital
Valuable customer data can be gathered from many sources – not just online – says Shep Murray, CEO and Co-founder of Vineyard Vines. Monitoring in-store interactions allows retailers to see how customers respond to every aspect of their journey, from how they engage with garments and displays, to their sizing preferences, and even their path through a store.
Data also has its shortcomings. Analysis paralysis, for one – becoming so overwhelmed by data that you have no idea what to do with it. Retailers have to know when to step away from the numbers and let instinct tell them what to do next.
Philip Krim, CEO of Casper, revolutionized the retail industry by transforming consumers' personal experience with sleep into products tailored to their well-being. As much as data analysis, and especially customer reviews, have played a fundamental part in their brand's success, Krim continues to push his organization to identify the right time to use intuition over data.
When Andrew Rosen set out to create his apparel brand, Theory, he was less interested in creating clothing and more-so interested in communicating a lifestyle. He credits a large part of Theory's success to knowing what the brand is about, and crafting clothing that doesn't just capture a moment in people's lives, but rather, their trajectory in life. That takes more than just looking at the numbers. "Don't let data drive all the decisions," says Rosen. "Retailers need to have a feel for their customer today and where they're going to tomorrow."
Controlling the Consumer Experience
As much as wholesale and retail partnerships offer huge benefits for retail brands, they also pose an enormous challenge when trying to manage a customer's experience with the brand. Companies may feel like they're handing all the control over to the partner who may have other business priorities to consider.
"We have great partnerships with wholesale customers," says Robert Hanson, CEO of designer jewelry brand John Hardy, "but it's hard to get them to participate in the brand narrative and create that full consumer experience. So we're using digital marketing in a super integrated way to get the engagement we need."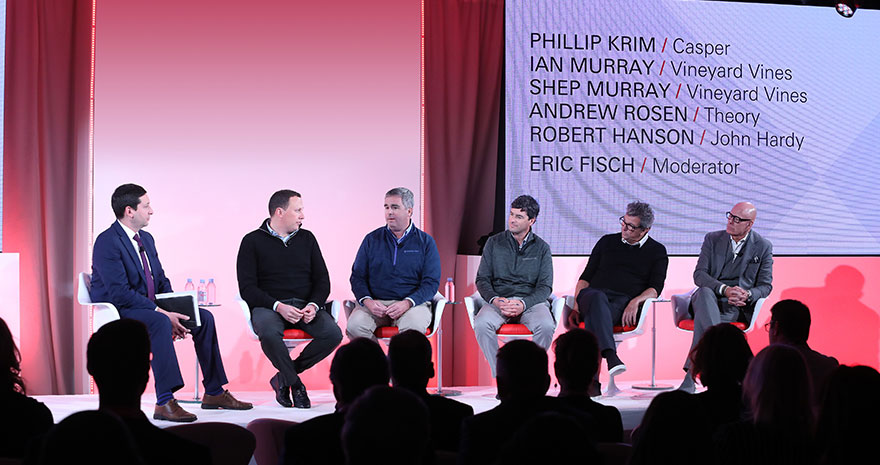 Giving Consumers What They Want, How They Want It
More and more people are making highly considered purchases online. Mattress, for instance – something meant to be used for years, even decades. According to Philip Krim, it was important for Casper to create brick-and-mortar store experiences so people could touch and interact with products they had been introduced to online. It's now an embedded part of their sales cycle. Often, the online experience gets the customer journey rolling, after which, the baton is handed off to brick-and-mortar stores where customers can connect with the product and complete the purchase. Originally, Krim thought customers would gravitate towards the ease and convenience of shipping, but he soon learned that many customers just wanted to be able to test the product in store and drive off with their new mattress then and there.
"People want things the way they want them," says Krim. A good customer experience means being set up for exactly that.
Be Authentic –Always
"Our first models didn't look like models," says Vineyard Vines CEO and Co-founder Ian Murray. "They were people we knew, people from around town. They have great stories to tell. It made the brand real."
"Our motto is, 'Every day should feel this good,'" adds Shep. "That means something different to everyone. We wanted to invite people to live those lives."
"Authenticity is the one thing that separates the good from the not-so-good," adds Theory's Andrew Rosen. "It's critically important to have culture within the company and have that be the guiding force."
At John Hardy, that guiding force can be seen even in the most "micro" of retail environments: a single worker's bench in a store window where customers can see the intense craftsmanship that goes into each piece. "We hope to recreate the experience you can have at our workshop in Bali," says Robert Hanson. "Bringing that deeper experience to life. The world doesn't need another jewelry store, but it does need that jeweler's bench in the window so people understand what informs the brand."
Casper's Philip Krim couldn't agree more. "It's easy to keep running after what's working in your category," he says. "We have to take a moment, and pause, and ask 'Is this the right product to put out into the market?' When we take the time to ask ourselves: 'What's the Casper approach?' That's how we tell the story in an authentic way."