How e-commerce brands can scale logistics sustainably
Learn how fashion brands are decreasing their environmental impact and how HSBC is helping businesses reach their sustainability goals.
This HSBC sponsored article was written in collaboration with Vogue Business.
B-corp certified apparel brand Frank and Oak has just opened its first New York store, nearly a year on from its acquisition by Manhattan-headquartered Unified Commerce Group (UCG). UCG co-founder and CEO Dustin Jones says that utilizing consumer data has been crucial to optimizing the brands' supply chain and helping Frank & Oak deliver growth over of 50 percent by Fall/Autumn. One big step since the takeover has been moving a large segment of Frank & Oak's production, which had previously relied on 34 suppliers, to data-driven Chinese retail services firm Lever Style. The two firms have shortening lead times, working on fit and developing more responsive production. "The better you can do on optimizing your demand and how much you produce - and optimizing your supply chain flow - the less of a footprint that you'll create," says Jones.
Sustainably-minded fashion brands are increasingly looking to leverage technology and data to help their bottom line and decrease the environmental impact of trading online. This is not an easy task given many technological solutions are category or business model-specific, but leaders are increasingly realizing that investment now could mean significantly reduced costs later.
"As technology evolves, so do the expectations of our consumers when it comes to brand interaction – and this change is never-ending and fast," says Alegra O'Hare, chief marketing officer for Tommy Hilfiger Global, "Digital innovation, harnessed with the power of data enables us to develop a deeper understanding of what our consumers really want."
Industry efforts are being supported by third-party stakeholders like HSBC that are working to more closely align business and sustainability goals.
We want to help finance more key drivers of sustainable fashion, from our sustainable supply chain finance programs to sustainability-linked loans, both of which can help companies see tangible results in both their "E" and "S" goals of ESG. We are also investing in digital solutions, including the new trade-platform Serai, the Apparel Impact Institute's Clean by Design program, and bringing venture capital to climate tech solutions.
Getting customers what they want
Implementing efficiency improvements has been particularly hard during 2021 thanks to increased demand on shipping networks. Founder and CEO of new comfort wear brand Wknd Nation Phuong Ireland intended to sea-freight the majority of the brand's goods where possible, but the disruption meant that they needed to transport a greater share than anticipated for a March launch by air instead.
Going forward, Ireland intends to use a balance of the two methods, delivering about a third by air to test demand, with the bulk coming by sea freight after they have more data. "It's just getting that initial read so that I'm not ordering wasteful inventory," she says, "That felt responsible to me, both from an environmental and business point of view."
On top of shipping delays, added surcharges on package deliveries have been common during the pandemic, with many logistics operators warning that these will likely continue. Within the luxury world, there has certainly been a race to offer best-in-class rapid service. Two thirds of the 59 brands with a direct-to-consumer offering tracked by the Vogue Business Index offer at least next-day delivery in its home market, with almost a fifth guaranteeing goods within 24 hours.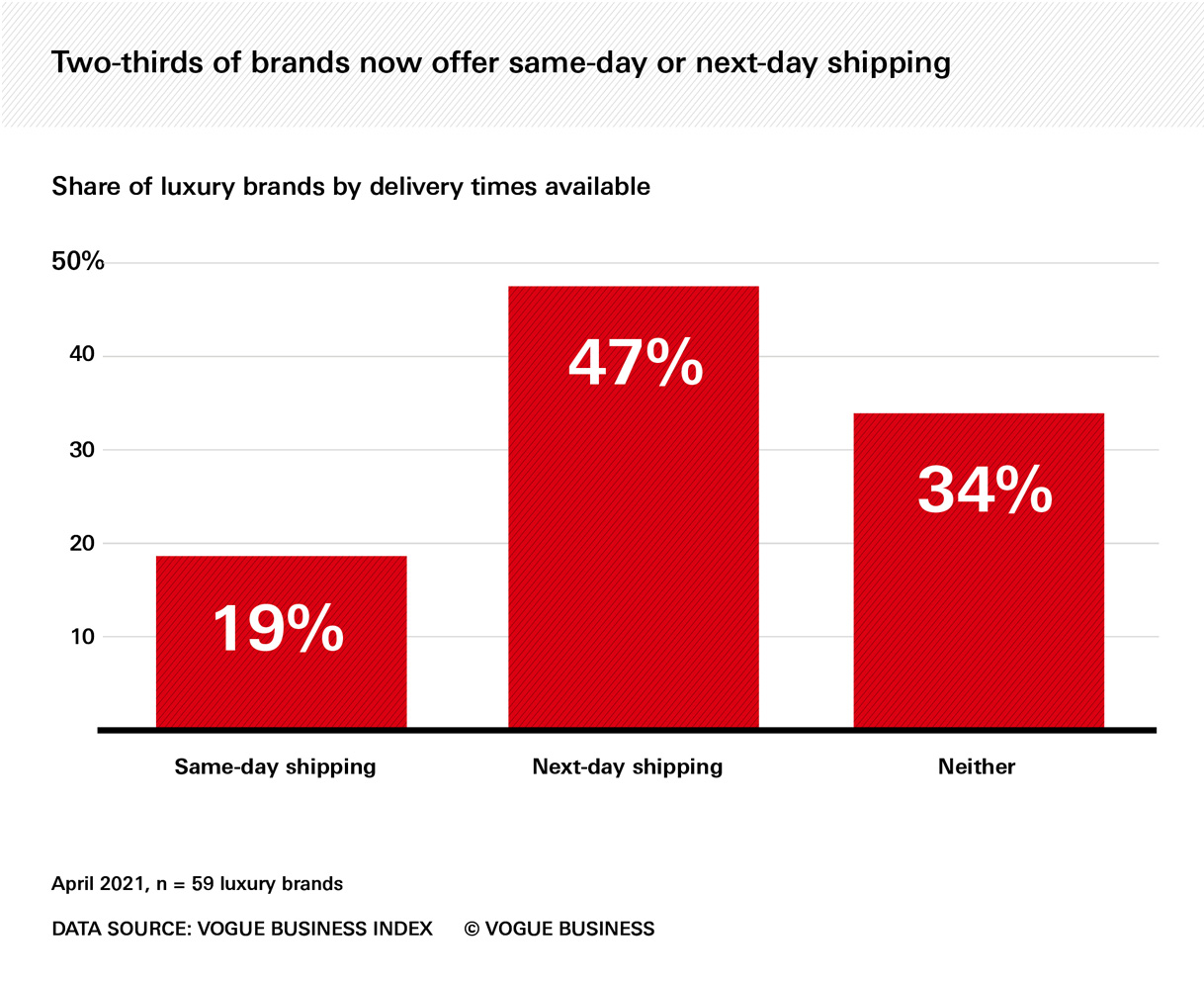 "One could hope that greater awareness would help consumers adjust their expectations," says Vanessa Barboni Hallik, CEO of sustainable luxury brand Another Tomorrow, "but in the American market that just hasn't happened. If anything, the rise of e-commerce has just made people less patient." Vogue Business Index data shows a clear majority of US high-end fashion consumers (68 per cent) rate fast shipping times as an important factor when making luxury purchases.
Ultimately, the way most brands operate today, the consumer's desire for fast, seamless, and inexpensive delivery and returns is at odds with the retail industry's goals of reducing carbon footprint and costs. The solution needs to arrive through more innovative use of technology and delivery methods
There are some easy wins on offer, with studies suggesting bikes - faster and less polluting than vans - could replace more than half of urban freight journeys. Fedex meanwhile are experimenting with robots and autonomous vehicles to handle last-mile delivery.
Another route for lightening the load includes delivery to hubs like parcel lockers or buy-online-pick-up-in-store (Bopis) purchases. Usage of the latter was up 67 per cent year-on-year in February 2021, according to Adobe data. Demand for this service among high-end shoppers still remains much lower in the US than in other countries, Vogue Business Index data suggests.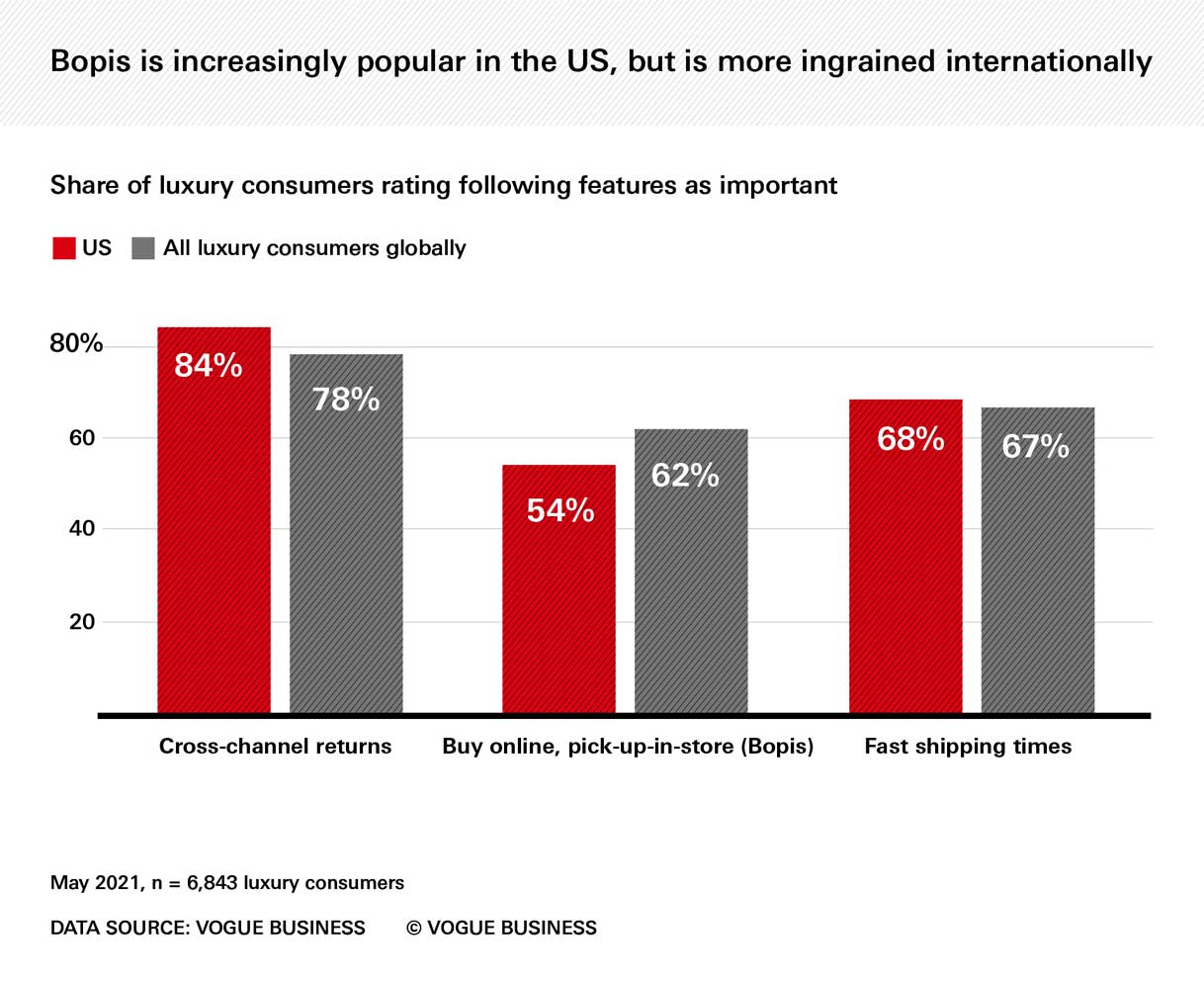 More than 90 per cent of US residents live within five miles of the 19,000 UPS Access Point locations across the country, where they can pick up products instead of receiving them at home.
"The network of these locations continues to grow based on customer demand, and this gives us confidence that retailers of all kinds – including fashion retailers – are responding to an evolving mix of consumer desire that reflects a strong demand for sustainable solutions," says Arthur Lam, director of marketing - UK, Ireland and the Nordics, at UPS.
Fixing returns and engaging customers
Far more important than shipping times to high-end consumers in the US is the ability to return products bought online in-store, which over eight out of 10 say is an important factor when buying luxury. This has long been a headache for e-commerce retailers, with significant sustainability and financial implications when consumers decide to send back online purchase.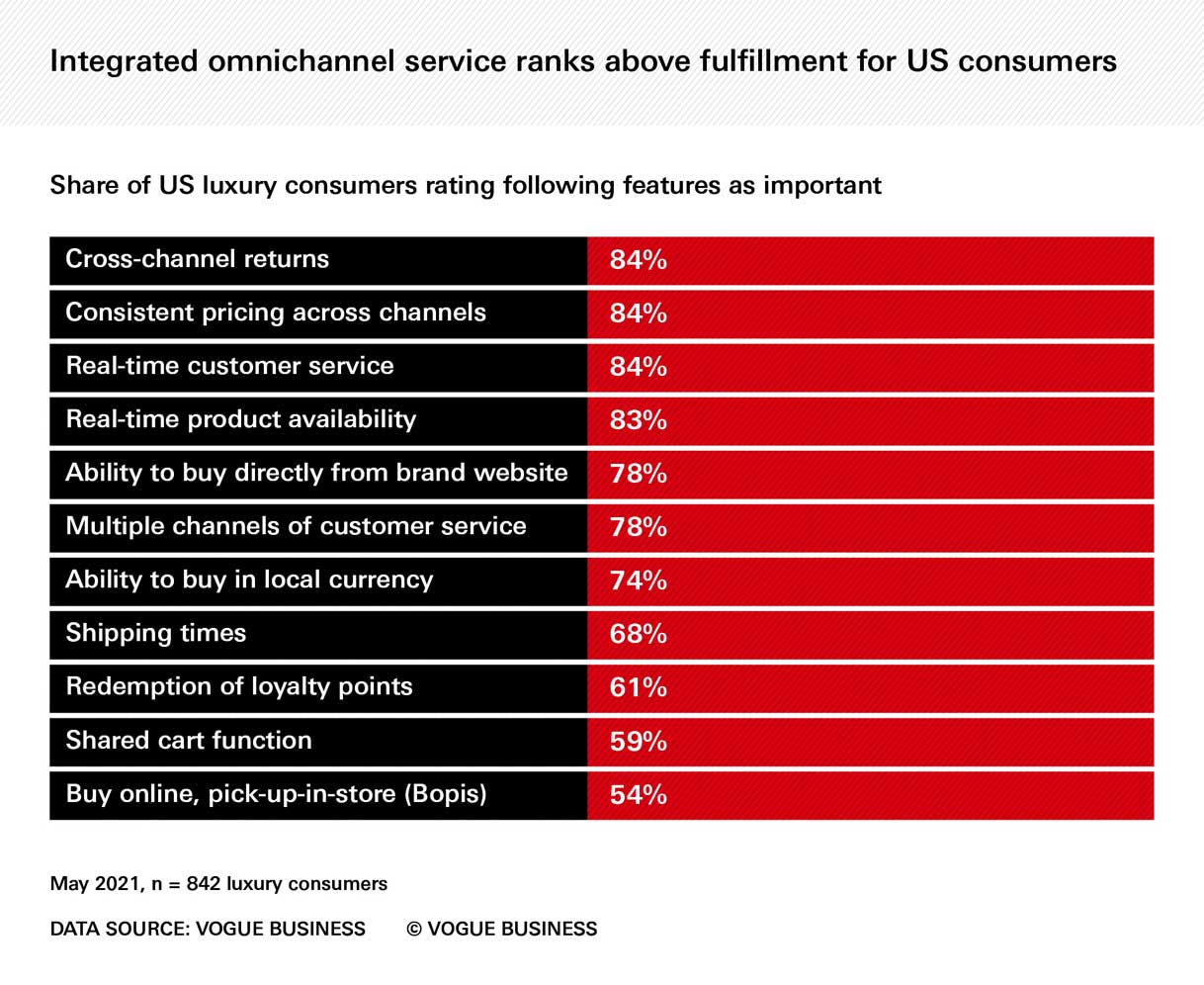 One solution provider is Happy Returns. The company has a network of 2,600 Return Bars across the US located in businesses including Fedex, Cost Plus World Market and Paper Source. Shoppers can drop off online purchases from Happy Returns' partner brands such as Everlane and Revolve box-free and have a return processed there and then. Co-founder and CEO David Sobie says that Happy Returns hopes to have 4,000 locations by the end of 2021 and triple or quadruple that by the same point next year.
"Think about twenty cardboard boxes travelling on a truck versus twenty items packed densely into one tote travelling on a truck and you get a sense that not only are we eliminating cardboard from the equation, but we're also just far more efficient in terms of the shipping that we're doing," says Sobie. In July 2021, 62% of consumers using Happy Returns chose a return bar ahead of returning items by mail when offered the option.
Other means by which to address returns come earlier in the production process. Ireland has achieved a 7 per cent return rate with Wknd Nation, low by industry standards, which she partially credits to using three different fit models - a small, a large and a double XL - instead of just one during the design process. Sizing technology, such as 3D avatars, is viewed as the logical next step for many apparel firms.
But does this work for me?
Since launch, Another Tomorrow has manufactured its clothes with a scannable QR code that includes information on how the product was made. By Q4 this year, customers of the B-Corp certified company will be able to use the same QR codes to request a shipping label to send the product for resale (The company's new pre-owned platform has been developed using infrastructure created by internet of things provider Evrythng).
Barboni Hallik says that the aim for the brand was to deliver transparency, authenticated resale and the ability for customers to repurchase styles they love. "I think having that clarity, which was all based on customer focus groups [and]... where we thought we could add value and drive customer adoption was really helpful and it just helped us filter out a lot of the other things."
While new technology innovations can often seem attractive, brands that do not look closely at whether it is a good fit for the business model and customers they have can falter. "A big part of Returnity's journey has been saying no to customers," says Michael Newman, CEO of the reusable packaging and reverse logistics firm. The company provides a variety of different forms of non-cardboard packaging bags that initially found their initial use case in apparel with fashion rental firms such as Rent the Runway.
The products cut down on waste in the long-term, but brands will only reduce their environmental footprint if the packaging is reused enough times. Some of the considerations here might include calculating the return-rate and the effort needed to bring returned products back into stock. The more information that a brand gathers, the better.
"You really have to do it off of data, you can't just throw it out there and hope," says Newman.
HSBC's Retail and Apparel Financing Solutions
Learn how our customized services and solutions can help support the needs of your growing business.