Sustainability in Insurance - MetLife, Liberty Mutual & HSBC
We're partnering with insurance companies as they take a more active role in a sustainable future. Read how insurance and finance reduces carbon emissions.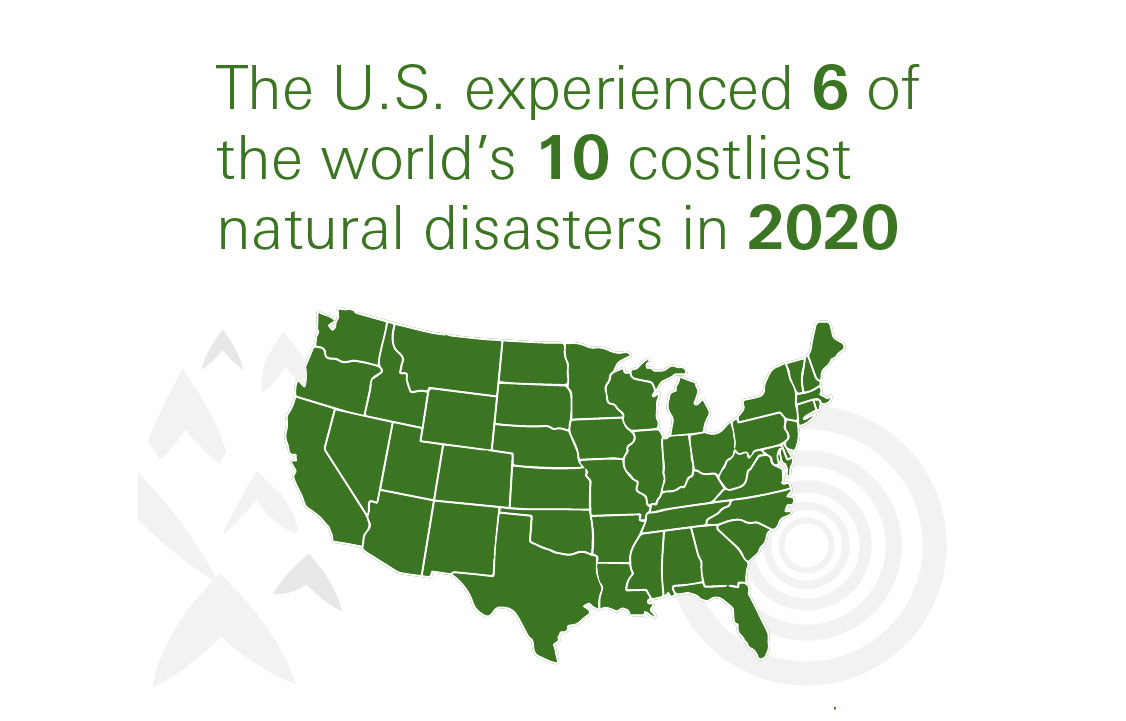 The Impact of Climate Change
Climate change continues to impact the world, that's why at HSBC we partner with businesses who ready for a greener tomorrow. The ongoing increase in global average temperature continues to show us the consequences of global warming. As a leader in sustainable finance, we have made it our commitment to achieve net zero in our operations and supply chain by 2030. Understanding human causes of climate change and the impact it has on the world is beneficial in helping take a more active role in a sustainable future.
These are just examples of the catastrophic losses the world has seen due to climate change and that are having a significant impact on the insurance industry and their customers. Scientists agree, we should expect even more frequent and extreme weather events around the world as global temperatures continue to rise. There is good news, however. In their most recent special report on climate change, the Intergovernmental Panel on Climate Change (IPCC) maps out the benefits of keeping global warming to 1.5ºC (or less) above what they were before the industrial revolution compared to the devastating impacts we could see in a world that's 2.0ºC warmer – just 0.5ºC more.
Solving climate change is urgent and will ultimately require corporate and financial institutions to invest in and finance sustainability development. For HSBC, that means a commitment to achieve net zero in our operations and supply chain by 2030 and reduce financed emissions in our client portfolio by 2050. To do that, we are working with companies across a range of sectors, including the insurance industry, to help them find more sustainable ways of doing business – both by providing sustainable finance solutions as well as advisory services.
Sustainable Finance: Green & Social Bonds
In the last few years, HSBC has underwritten green and sustainable financing for a number of North American insurance companies. This included the industry's first green Funding Agreement-Backed Note for MetLife in 2020.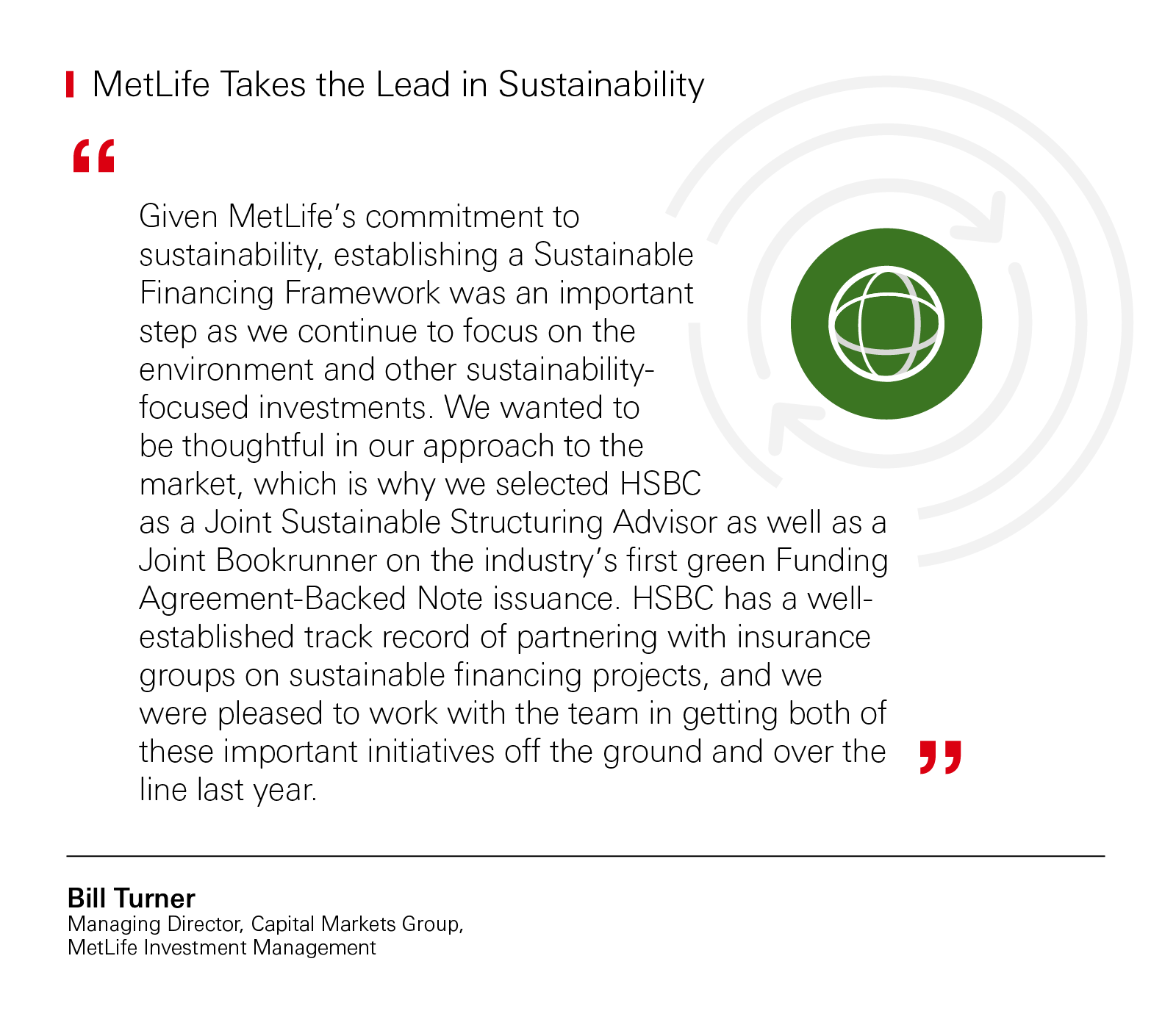 The proceeds of a green bond are allocated to environmentally and socially responsible projects and businesses. This includes everything from renewable energy and energy efficiency initiatives to sustainable waste and water management to climate change adaptation and more.
In addition to MetLife, HSBC also led some of the insurance industry's first green and sustainable bonds for Prudential Financial Inc in the U.S. and in Canada for Sun Life, the first life insurance company in the world to issue a sustainability bond, and ManuLife Financial Corporation. This innovative approach to helping insurance companies further their sustainability journey combined with our historic focus on Environmental, Social and Governance (ESG) has led others, like Liberty Mutual, to turn to HSBC for advisory services to develop and strengthen their sustainability strategies.
Insurance as a Force for Social Good
According to Edward Peña, Executive Vice President & Treasurer, Corporate Finance, for Liberty Mutual Insurance – the sixth-largest global P&C insurer – the insurance sector knows firsthand the impact of climate change. "Severe weather events affect our policyholders around the world," he says. As weather events become more extreme, annual insurance losses are also growing. In 2020, Aon – a leading global professional services firm – reported there were 416 natural disasters globally resulting in $268 billion in economic losses. Only $97 billion of that was covered by private sector or government insurance programs – resulting in a protection gap of 64%. The concern is that covering certain areas hardest hit will become too costly for customers and risky for P&C companies. To avoid that, McKinsey suggests this is the time for the insurance industry to move beyond traditional risk transfer and focus more on risk mitigation.
"As a P&C insurance company, we're exposed to a broad range of ESG issues – not just environmental, but social and governance as well," explains Ed. "We see insurance as a socially responsible product that gives people security and we know we have the opportunity to make a positive difference." That's why, while Liberty Mutual has been committed to ESG principles for decades, they knew they wanted to sharpen their organizational focus. As a result, the company created an Office of Sustainability in 2019 to formally establish and integrate an ESG strategy across the company.
The Path to Sustainable Investment
In 2020, Liberty Mutual became the first US P&C insurance company to join the United Nations Principles for Responsible Investment (PRI) – an international network of institutional investors focused on ESG. The company is also a member of Ceres, a nonprofit focused on transforming the economy to build a just and sustainable future for people and the planet.
"Partnerships like PRI are a natural extension of the work we are already doing," says Ed. "Frameworks such as PRI's ESG principles provide us additional guidance as we continue our journey." An example of Liberty Mutual's progress is its increased investment in alternate energy sources, which grew from $295 million in 2018 to $861 million in 2020.
Engaging with Stakeholders
A critical next step for the company was clearly mapping out the evolution of their ESG strategies to the investment community. "Although we're a privately-held mutual, Liberty Mutual strives to deliver a best-in-class investor relations function," says Ed. "We wanted to be able to communicate what we've been doing and where we're going in a way that illustrated the strength of our ESG framework."
To do that, they turned to HSBC for help. "Since we had an existing relationship with the bank, we already knew they had taken a strong leadership position in sustainable finance and that they shared our commitment," he explains. "With their support, we were able to reach our target audience and effectively share the progress we are making across the ESG spectrum."
"For us, ESG is a journey that builds on our legacy of social and environmental progress – but that also seeks to learn, grow and evolve," says Ed. "In April 2021, we published our second annual ESG report, which reflects how our values guided our decisions about ESG and how we advanced efforts to support our customers, employees, partners and communities where we live and work."
Is your business ready for a greener tomorrow? Contact us about your sustainability initiatives.