Managing Cash Flow

Make & Receive Payments
Ensure Sufficient Cashflow
Improve Efficiency
Streamlining card management to accommodate growing staff and increased international travel
Genective is a joint venture between the Groupe Limagrain and KWS Group, the largest seed companies in France and Germany respectively – and the fourth and fifth largest in the world. Headquartered in Champaign, IL, the company's vision is to become a globally impactful contributor to agriculture through biotechnology. Right now, they are dedicated to the development, deregulation and commercialization of transgenic corn traits.
The Challenge
The company's 25 employees are based in Central Illinois. Throughout 2020, their card spend has been relatively low – roughly $65,000 annually. Genective's CFO expects spend to more than double as international travel begins to open up again and new staff comes on board. As of early 2021, a significant percentage of commercial charge card use was for non-travel items, including office supplies. With the expansion of card use, they were looking to add efficiency to the company's card program. This included not only global acceptance and traveler benefits, but also a card management platform that helped minimize manual processes with better reporting and a range of self-service capabilities.
The Transformation
HSBC recommended its Corporate World Elite Mastercard®, and asked Genective to pilot the new CenterSuite card management portal. Cardholders enjoy airport lounge access, free WiFi via Boingo, travel insurance and 24/7 multi-lingual support. There are no foreign transaction fees and additional perks like annual rebates on rideshare services Uber and Lyft, discounts on business software such as Intuit® and Salesforce and an $85 credit for TSA PreCheckTM or Global Entry programs. Cards also earn unlimited points that can be redeemed for travel, merchandise, gift cards and cash by the company. A single comprehensive platform allows for real-time account management and rewards redemption.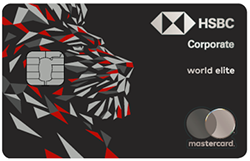 We're impressed by both the program and the process of migrating to HSBC's Corporate World Elite cards. The self-service tools and seamless integration with our expense management system allowed us to quickly start saving time and effort.
The Success
Greater visibility
CentreSuite provides a holistic snapshot of the company's entire card program – from a high-level overview to individual cardholder information including:
   - Access account balances and statements
   - Declined transaction data to help detect suspicious activity earlier
Enhanced efficiency
Card transaction information feeds seamlessly into SAP Concur, the company's expense management tool, minimizing the need for manual reconciliation and expense reporting. The direct feed enables Genective to ensure all employee card transactions are captured and accounted for in their expense reports.
Self-service capabilities:
Genective can now issue new cards quickly and easily on their own
Manage card limits, including temporary increases under special circumstances
Temporarily freeze accounts with suspicious activity
Initiate ACH balance payments at the individual or corporate level
View companywide transactions and download monthly consolidated statements
Initiate payments
Why HSBC
HSBC's approach is rooted in relationships. By working closely with Genective, the bank was able to gain a better understanding of their needs – both in terms of spend and card management. The HSBC team's role did not end after making a recommendation. They remained in constant contact with the company throughout implementation to ensure the platform was set up properly from the beginning. This included ironing out issues typical of a pilot program as they arose. In the end, the company's CFO was impressed by the smooth rollout and the knowledge and responsiveness of the HSBC team.
HSBC Corporate World Elite Mastercard
A premium card with comprehensive benefits, leading rewards & extensive protection